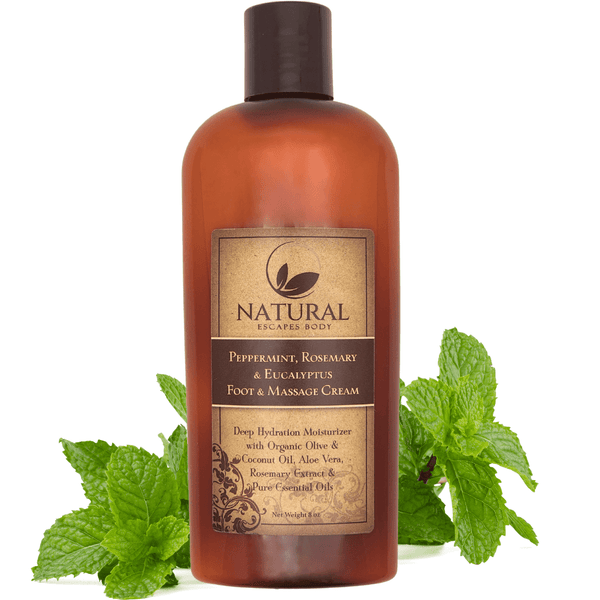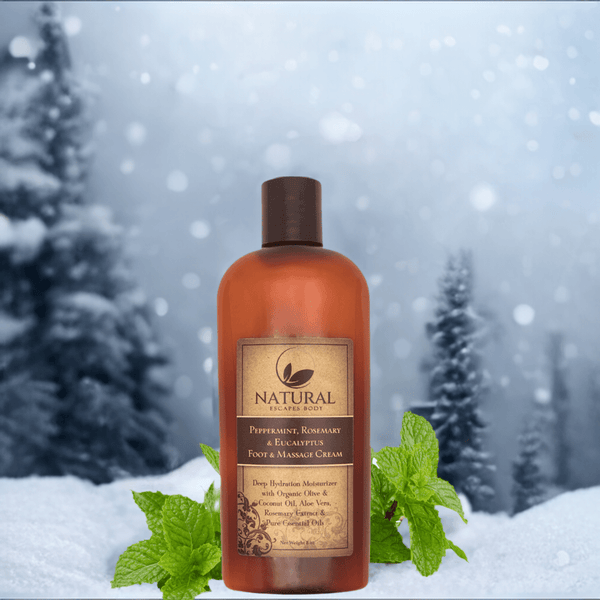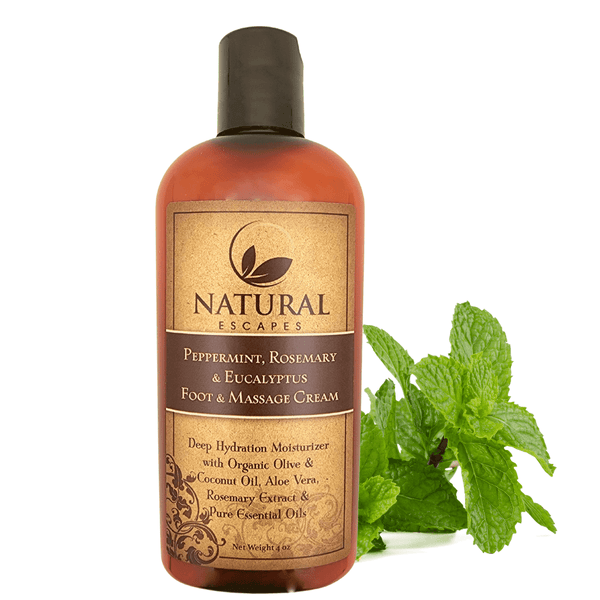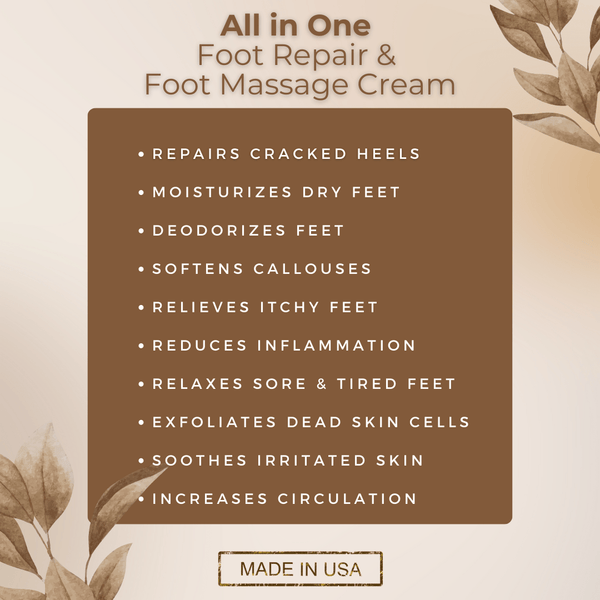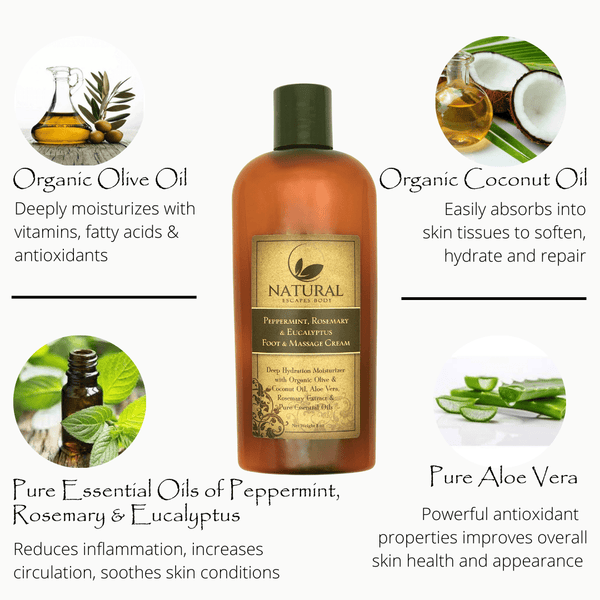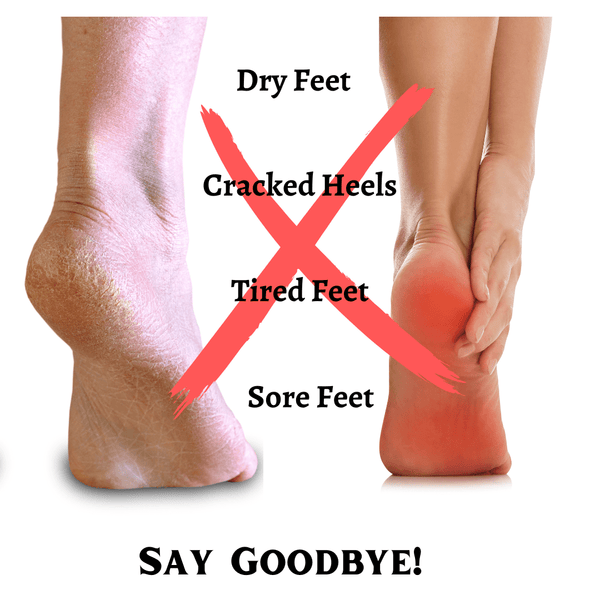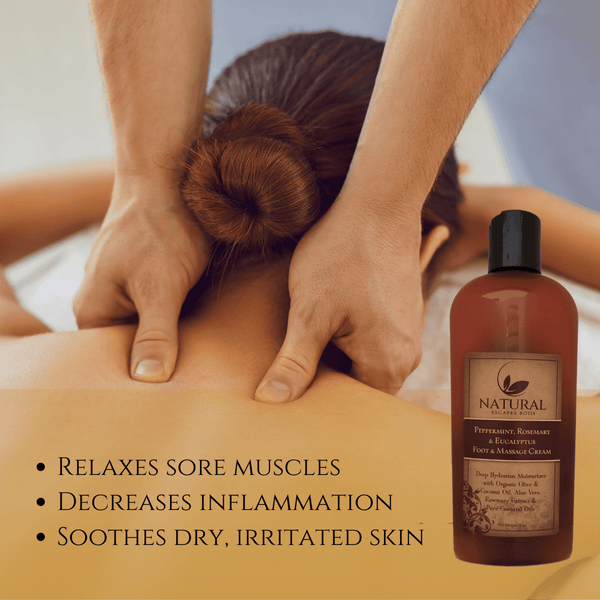 Peppermint, Rosemary & Eucalyptus Massage & Foot Cream | Moisturizing Lactic Acid Lotion for Dry Feet | Cracked Heels Treatment
Natural Escapes miracle foot repair cream is specially formulated to repair and rejuvenate dry, cracked and rough skin on the feet, restoring their natural softness and smoothness. Nourishing ingredients, such as organic aloe vera juice, olive oil and coconut oil, penetrate deeply into the skin to heal and moisturize cracked and dry heels and callouses, preventing further damage and promoting healing.
This foot lotion and foot massage cream delivers intensive hydration to the skin, creating a protective barrier that locks in moisture for long-lasting relief. The fast-absorbing formula delivers quick relief to dry, cracked and calloused feet. 
Contains vegan lactic acid to help gently exfoliate the feet, removing dead skin cells and promoting healthy cell turnover to repair and prevent dry, cracked heels. Pure essential oils of Peppermint, Rosemary and Eucalyptus deliver powerful skin soothing and aromatherapy benefits.  Works great as a therapeutic massage cream to relax sore and tired muscles and joints.  May also help in treating various skin problems including psoriasis, dermatitis, eczema and other skin conditions!

Helps with the following:
dry, peeling skin on feet

calloused feet
cracked heels, elbows, hands

itchy skin
relaxes sore and tired feet
increases blood circulation
decreases inflammation
gently exfoliates and removes dead skin from feet

athletes foot treatment
diminishes minor aches and pains
relaxes sore and tired muscles
deeply hydrates and nourishes skin
Handcrafted in Colorado using a proprietary formula from the finest all-natural and organic ingredients. This organic foot cream is made with non-GMO ingredients and contains NO petroleum, mineral oil, parabens, phthalates, glycols, paraffin, synthetic colors or fragrances, soy, gluten or sulfates. This vegan foot cream is CRUELTY-FREE! Made in small batches so you know you are getting the freshest and most potent moisturizing foot cream available! 

Ingredients:
Ingredients: Organic Aloe Vera, Distilled Water, Organic Olive Oil, Organic Coconut Oil, Organic Rosemary Extract, Hydrolyzed Oat Protein, Glycerin, Emulsifying Wax, Stearic Acid, Dimethicone, Lactic Acid, Vitamin E Acetate, Peppermint Essential Oil, Eucalyptus Essential Oil, Rosemary Essential Oil, Citric Acid, 0.5% Benzyl Alcohol (Eco-Certified Preservative)