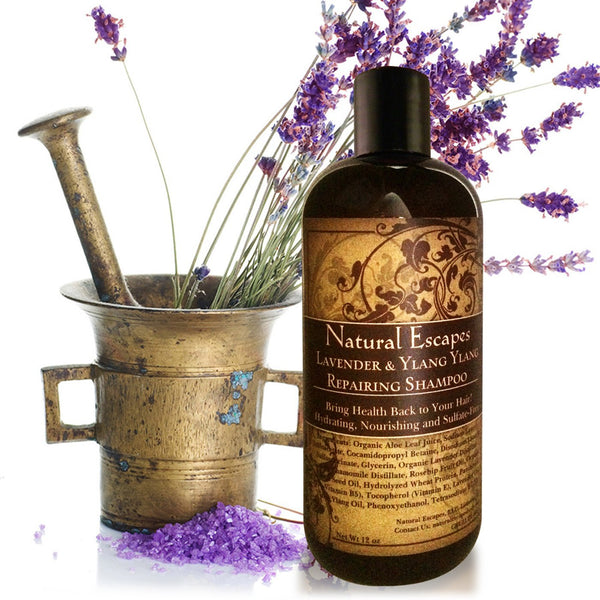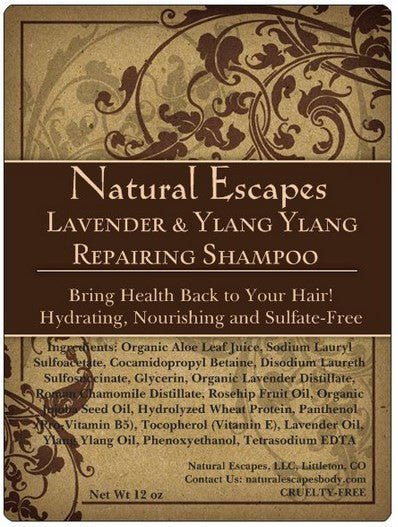 Lavender & Ylang Ylang Repairing Shampoo | Sulfate-Free Shampoo for Dry Hair, Color-Treated Hair, Hair Growth & More
Deeply nourish and hydrate your hair with Lavender & Ylang Ylang Shampoo! This gentle, sulfate-free shampoo will leave your hair softer, fuller and healthier than ever before! Lavender & Ylang Ylang have been used for centuries for their powerful hair restoring properties!
Effectively prevents hair loss and promotes hair growth! A study by a group of dermatologists in Scotland showed that 44% of alopecia patients who were tested experienced new hair growth when they used lavender oil on their hair for 7 months.
Balances oil production by moisturizing dry skin and correcting oily skin. Ylang Ylang is a natural conditioner and is commonly used in many island nations to protect hair from damage inflicted by the harsh ocean. It stimulates and increases the width of hair follicles, promoting full, thick, healthy hair!
Actively penetrates deep into hair follicles to provide superior moisture. This amazing shampoo leaves hair as soft and smooth as ever! Treats split ends, nourishes hair follicles and effectively causes hair re-growth!
Powerful anti-inflammatory, anti-fungal and antiseptic properties treat dandruff, dry scalp, head lice, acne, eczema, skin infections and even heal burns & wounds and can cure headaches!
Lavender and Ylang Ylang have potent aromatherapy benefits and are used for their calming and relaxing effects, which can assist in treating depression, stress and much more!
REPAIR DAMAGED HAIR! Organic Jojoba oil and Rosehip Seed oil moisturize and protect hair • Lavender & Chamomile distillates gently soothe and nourish • Pro-Vitamin B5 and Vitamin E moisturize, protect and soften hair • Wheat Protein strengthens hair with essential amino acids!
GENTLE ON ALL HAIR TYPES! Perfectly pH balanced to remove dirt and oils without stripping natural oils, and protect delicate follicles. NO harsh chemicals such as Parabens, Sulfates, Petrochemicals, Glycols, Synthetic Fragrances or Colors! Cruelty-free & Vegan Formula! Safe for sensitive skin, color treated hair and kid's hair, too!
Ingredients: Organic Aloe Leaf Juice, Sodium Lauryl Sulfoacetate, Cocamidopropyl Betaine, Disodium Laureth Sulfosuccinate, Glycerin, Organic Lavender Distillate, Roman Chamomile Distillate, Rosehip Fruit Oil, Organic Jojoba Seed Oil, Hydrolyzed Wheat Protein, Panthenol (Pro-Vitamin B5), Tocopherol (Vitamin E), Lavender Oil, Ylang Ylang Oil, Phenoxyethanol
Net Weight 16 oz