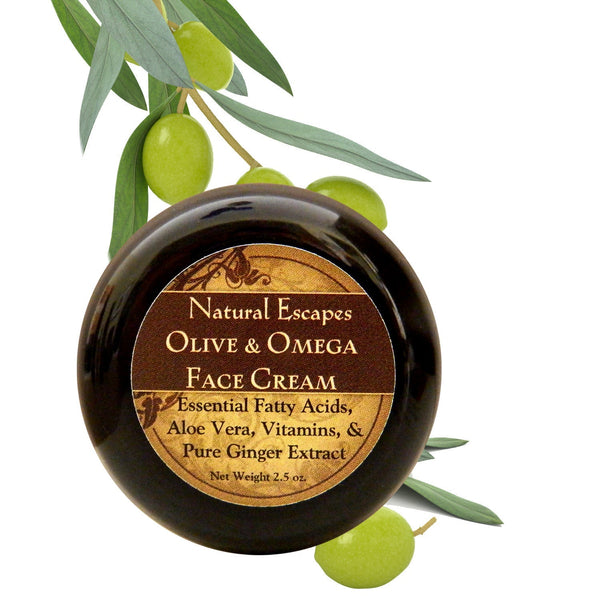 Olive & Omega Face Cream | Anti-Aging Face Cream for Extra Dry Skin, Fine Lines & Wrinkles, Age Spots & More
Natural Escapes Olive & Omega Face Cream is a luxurious and intensive moisturizer designed for aging skin. It is formulated with the BEST all-natural and organic ingredients that provide deep nourishment, hydration and total skin regeneration!
This cream infuses skin with an exclusive blend of anti-aging essential fatty acids, botanicals, vitamins and essential oils that restore skin's elasticity and radiance while rebuilding collagen, smoothing out fine lines and wrinkles and providing powerful moisture that lasts ALL day!
Natural Escapes Olive & Omega Face Cream uses a potent combination of naturally occurring sources of Omega 3, 6 and 9 essential fatty acids from beautiful oils that transform skin! It is also abundant in skin regenerating Vitamin A, ProVitamin B5, Vitamin B3, Vitamin E, as well as rejuvenating botancials of Aloe Vera, algae extract and ginger extract, which nourish, soften and moisturize aging, crepey, sun-damaged and dry skin.
Due to the potent moisturizing properties, after only one night of use, skin feels like SILK! Over time, skin becomes plumper, firmer and radiant with health!
Aloe Vera stimulates new skin growth through amino acids and promotes healthy healing in the deepest skin layers.
Olive Oil is rich in antioxidants, such as Vitamin E and carotenoids, along with Omega 3 & 6 and Vitamin K. Has a preventative effect on the formation of free radicals after sun exposure. Rejuvenates the skin and softens tissues.
Coconut Oil contains Lauric acid, Linoleic Acid, Oleic Acid, fatty esters and many other natural compounds. Easily absorbed through the skin, giving it a soft, smooth texture; ideal for dry, rough and wrinkled skin.
Avocado Oil is a rich source of Vitamins A, various B vitamins including B1 & B2, vitamin D and E, as well as beta-carotene, potassium (known as the youth mineral) and lethicin. High in Sterolins, which reduce age spots, help heal sun damage and scars, provides relief from the dryness and itching of psoriasis and eczema. High in essential unsaturated fatty acids. Significantly increases the amount of collagen in the skin.
Borage Oil is rich in GLA essential fatty acids and is reported to help psoriasis and eczema.
Evening Primrose Oil has a minimum GLA content of 9%; wonderful for treating dry or irritated skin
Algae Extract conditions, hydrates, softens and detoxifies the skin, replenishes essential vitamins and minerals. Rich in antioxidants that protect against free radical damage and prevents the formation of an enzyme that causes the break down of collagen. Also helps build elastin fibers in skin.
Ginger Extract has excellent anti-aging properties due to its ability to almost totally inhibit collagen degradation. It maintains healthy protein levels in the dermis and helps skin flexibility. It also acts as an anti-oxidant and anti-inflammatory.
Oat Protein is a natural humectant known for its powerful skin regenerating properties. Keeps skin hydrated for up to eight hours after application. Provides and retains significantly more moisture in skin. Gives skin a soft and velvety smoothness.
Vitamin E a potent antioxidant, moisturizes dry skin and prevents premature aging.
Vitamin A has potent skin regenerating properties; increases collagen production, smooths skin texture, increases skin thickness, and rebuilds cellular health.
Vitamin B3 (Niacinimide) and Vitamin B5 (D-Panthenol) moisturize & soften skin, make the skin more elastic, stimulate new collagen growth and fade discoloration.
Lemongrass Essential Oil encourages new cell growth, improves skin elasticity and tightens skin, reduces appearance of wrinkles. Lemongrass Oil, which is anti-bacterial, anti-fungal, anti-microbial and acts as an astringent! Lemongrass oil prevents premature aging, minimizes pores, controls oil production, inhibits acne, and is a skin firming treatment! 

2.5 oz Jar will last approximately 4-6 months!
Ingredients:
Organic Aloe Vera, Organic Olive Oil, Distilled Water, Organic Coconut Oil, Avocado Oil, Algae Extract, Ginger Extract, Stearic Acid, Emulsifying Wax, Organic Borage Oil, Evening Primrose Oil, Hydrolyzed Oat Protein, Niacinimide (Vitamin B3), D-Panthenol (Pro-Vitamin B5), Retinol Palmitate (Vitamin A), Vitamin E Acetate, Citric Acid, Essential Oils, 0.5% Benzyl Alcohol (Eco-Certified Preservative)