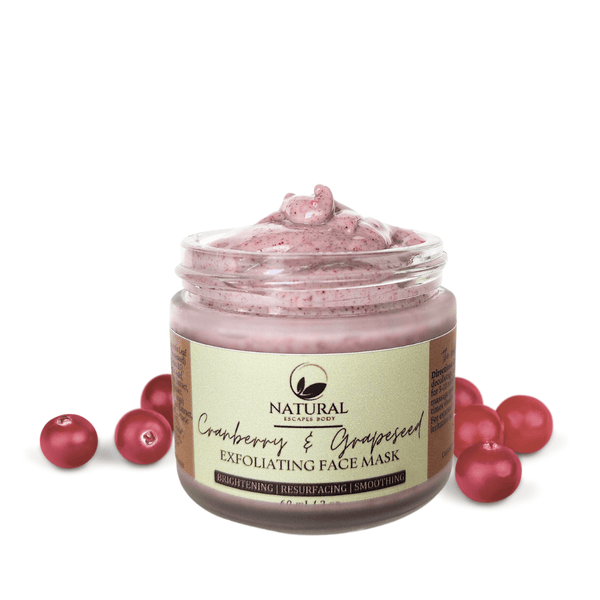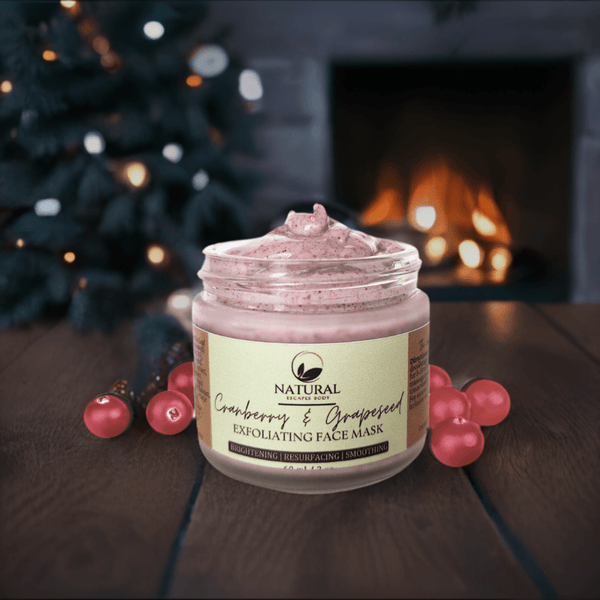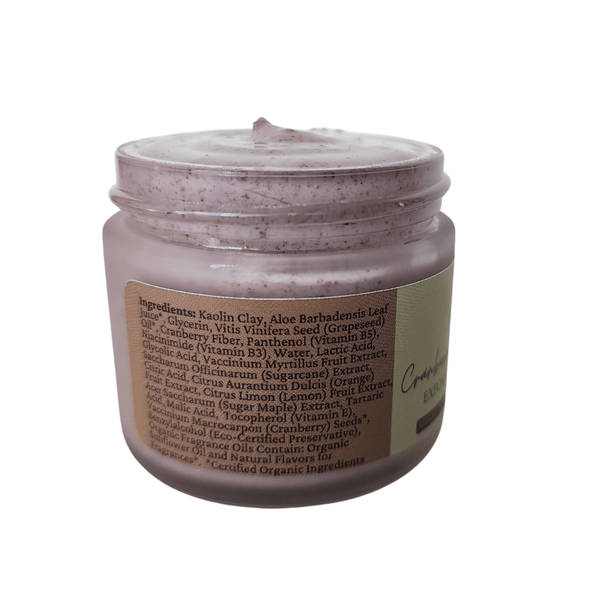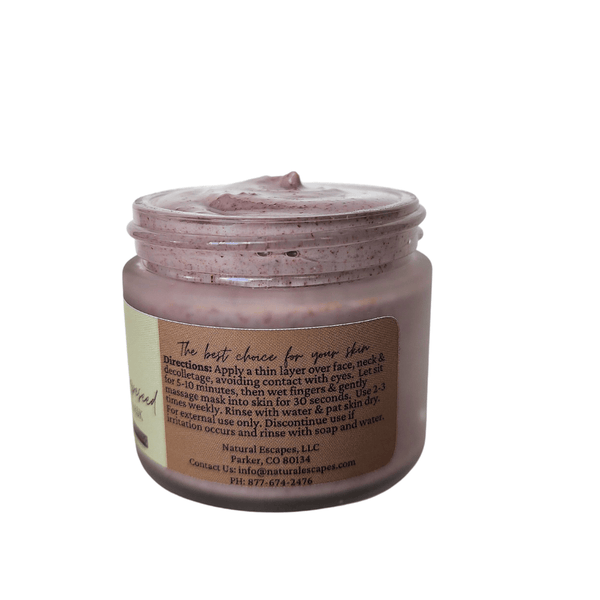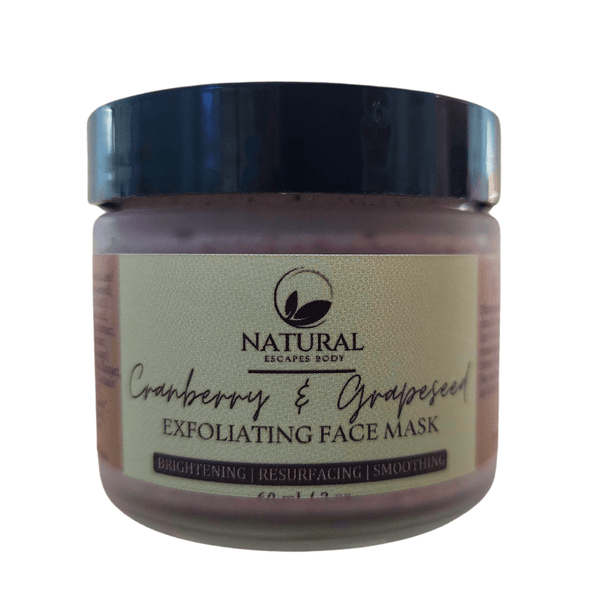 Cranberry & Grapeseed Exfoliating Facial Mask | Alpha Hydroxy Acid Face Mask | Hydrating Facial Mask w/ pure grapeseed oil
We are changing our  labels!  A stunning blend of the most powerful skin regenerating ingredients available! This masque does it all! Deep cleans pores, exfoliates for a softer, smoother appearance and infuses skin with antioxidants, phytonutrients, essential fatty acids, and vitamins for the best skin of your life!
Made from White Kaolin Clay, which pulls dirt and impurities from pores while increasing the supply of oxygen making skin tissues function and regenerate better. It also gently exfoliates, refines pores , absorbs excess oils and soothes irritation.  Skin is left firmer and revitalized, resulting in a younger and healthier look!

Contains cold-pressed Grapeseed Seed Oil, which is a lightweight and easily absorbed oil high in essential fatty acids, Vitamin E, antioxidants and phytochemicals! It is essential for aging or damaged skin and has powerful skin nurturing benefits. Grapeseed Oil is high in linoleic acid which helps to strengthen the skin's barrier reducing redness and inflammation caused by breakouts. Grapeseed oil contains Vitamin E, an amazing ingredient that reduces inflammation and hydrates the skin to plump fine lines and wrinkles.

Pure Cranberry Fiber & Seeds contains a high concentration of antioxidants and vitamins C and also provides gentle yet effective exfoliation to give your skin that bright, youthful glow! Cranberries are filled with vitamin C and salicylic acid. The vitamin C present in cranberries is known for helping individuals achieve glowy skin and visibly eliminate blemishes. These two components work together to also help reduce hyper-pigmentation, eliminate acne scars, and lighten blemishes

Infused with Alpha Hydroxy Acids to slough away dead skin cells at a deeper level and speed skin regeneration.  This all-natural exfoliant works to give you softer, smoother, younger looking skin!
Skin-repairing Pro-Vitamin B5, Vitamin B3 and Vitamin E infuse your skin with vital nourishment.  These vitamins are deeply hydrating, improve surface structure, smooth out skin texture, and help reduce fine lines, wrinkles, hyperpigmentation and other signs of aging! They also protect skin from UV damage and free radicals!

Ingredients: Kaolin Clay, Aloe Barbadensis Leaf Juice*, Glycerin, Vitis Vinifera Seed (Grapeseed) Oil*, Cranberry Fiber, Panthenol (Vitamin B5), Niacinimide (Vitamin B3), Water, Lactic Acid, Glycolic Acid, Vaccinium Myrtillus Fruit Extract, Saccharum Officinarum (Sugarcane) Extract, Citric Acid, Citrus Aurantium Dulcis (Orange) Fruit Extract, Citrus Limon (Lemon) Fruit Extract, Acer Saccharum (Sugar Maple) Extract, Tartaric Acid, Malic Acid, Tocopherol (Vitamin E), Vaccinium Macrocarpon (Cranberry) Seeds*, Benzylalcohol (Eco-Certified Preservative), Organic Fragrance Oils Contain: Organic Sunflower Oil and Natural Flavors for Fragrances*. *Certified Organic Ingredients
Directions: Apply a thin layer to clean face and neck. Spread evenly, avoiding eye area.  Let sit for 10-15 minutes. Wet fingers with warm water and rub face in circular motions fro about 30 seconds to stimulate mechanical exfoliation from cranberry seeds. Product will turn into a thin paste. Rinse off with water and pat dry.

Sunburn Alert: This product contains an alpha hydroxy acid (AHA) that may increase your skin's sensitivity to the sun and particularly the possibility of sunburn. Use a sunscreen, wear protective clothing, and limit sun exposure while using this product and for a week afterwards. Might cause slight tingling and redness if sensitive to AHA's. Discontinue use if irritation occurs.